EON Productions choose their projects well. The company behind the amazing James Bond movies have just produced two films —being Call Me Bwan in 1963 the first one, the year after the debut of my loved 007— outside of that franchise, but when they do it you know you're going to enjoy it, you can be sure that will be something special, and that is exactly what happens with Film Stars Don't Die In Liverpool, an absolute gem.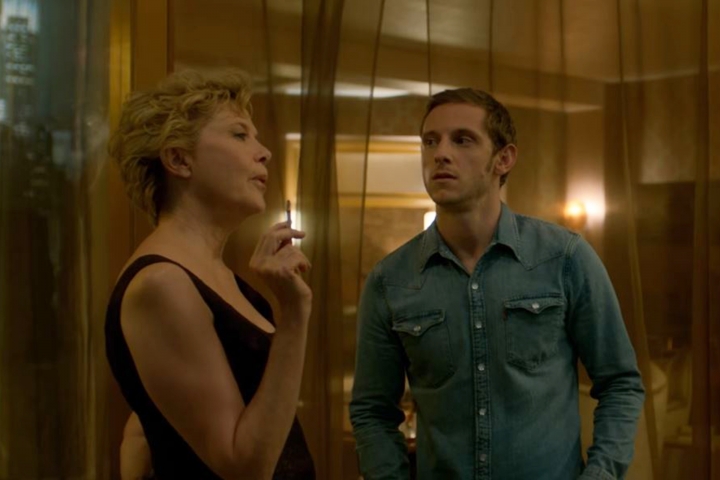 "Bening and Bell are outstanding"
The film opens with a beautifully set-up sequence in which Gloria Grahame is seen going through her ritual of getting ready to go on to stage: she unpacks her toiletries and precedes to meticulously put on her make-up, and then comes a knock on the door and a voice informing her that she has five minutes. Next, Gloria is taken ill and is seen clutching her stomach in agony. Picking up from there, McGuigan recounts the story in a series of flashbacks, bringing the story back to 1981 each time
Staring Annette Bening and Jamie Bell (who played Billy Elliot in 2000), Film Stars Don't Die In Liverpool is the new offer from director Paul McGuigan. Based on Peter Turner's memoir, the film recounts the story of Turner's relationship with Oscar winner actress Gloria Grahame, a household name in the 40s and 50s, who sadly fell out of grace in her later years and had to content with a few TV roles and a few odd theatre in the West End. Following an episodic narrative which is cleverly constructed around Matt Greenhalgh's beautifully screenplay, the film manages to capture only a glimpse of the former star's life, but does it with a great deal of tenderness and solemn reflection towards its subject.
Annette Bening and Jamie Bell respectively are outstanding building a credible romance in which you will felt in love with. Bell is charming as the young Turner, a compliant beau with a kind heart, wide shoulders and neat footwork. It's fun to see that Billy still has the moves but is Bening that breaks your heart when they are dancing. This is her movie and it's aimed at the Academy. Yes, Bening shoul get the Best Actress Award at the Oscars, but please don't discount Bell either as both are magnificent in every scene. She captures Grahame's breathy voice and sharp wit perfectly; her pleasure in her young lover is clear, as is her wistfulness for the classical stage career she never had. Bening doesn't dodge the lens which highlights her own ageing face and gives a superbly brave performance.
Director Paul McGuigan pulls off some real cinema magic, using back projection and fluid camera moves to convey the lovers' golden time in America —even knowing that the whole film was shot in the UK!— but it falls down in the art department. The interior scenes are suffocating with their near-obsessive period detail: patterned wallpaper, nightmarish carpeting and painfully bad wigs for Julie Walters (who also was in Billy Elliot) as Peter's warm-hearted mum and Stephen Graham as his grumpy brother. The costumes, hair and make up are absolutly amazing. Congratulations to the whole team but, in special, to Jany Temime (costume designer) and hair designer Naomi Donne, both of them from the Bond world alongside casting director Debbie McWilliams.
The moving, well-judged, wonderfully acted film has humour, compassion, tenderness, kindness and sadness that is even more moving because it all basically happened.
Film Stars Don't Die In Liverpool swept me up and had me cowering in my seat as the final credits rolled down, a sequence that just about allows you to mop up your tears before you venture outside the auditorium. The woman that was next to me the day of the premiere said me «Did you liked it? It's quite slow but it's so nice… isn't it? I loved it!».
Just one more thing: Mrs Barbara and EON Productions, the Bond films are amazing (I love them!) but your other two non 007 productions are so amazing too, so, be back soon please!